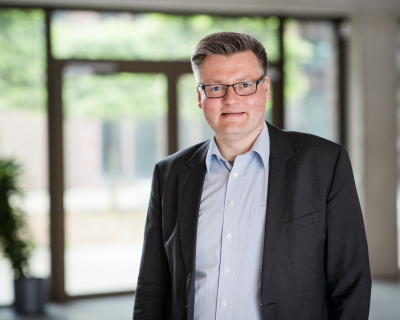 Stefan A. Wiesner
Research Scientist in the IKAP department Collaborative Business in Enterprise networks
Curriculum vitae
Stefan A. Wiesner has a diploma in Industrial Engineering and Management (focus on Project Management and Development of Production). He has been working as a research scientist for BIBA in the department of ICT applications for production (IKAP) since 2007. His research interests are in the field of collaborative Requirements Engineering and Business Model innovation for complex Cyber-Physical Systems (CPS) and Product-Service Systems (PSS). Mr. Wiesner has been the responsible manager for several European projects, subprojects and work packages in these areas (ESKALE ERA-NET, MSEE IP, PSYMBIOSYS RIA, inter alia). Contributions and publications include the development and application of a game-based Requirements Engineering framework and a Business Modelling methodology for PSS, supporting the implementation in industrial companies. He is active in the IFIP 5.7 SIG on Smart Manufacturing with the aim to integrate PSS and CPS concepts.
Projects
| | |
| --- | --- |
| MARIDAL | Maritime Regional Network for Integrated Digital Working and Learning |
| PSYMBIOSYS | Product-Service sYMBIOtic SYStems |
| MSEE | Manufacturing SErvice Ecosystem |
| COIN | COllaboration and INteroperability for Networked Enterprises |
| PMC | Personal Mobility Center |
| ESKALE | Trans-European Sustainable Knowledge-Based MAnufacturing<br/>for SmalL and Medium Sized Enterprises in Traditional Industries |
| ECOLEAD | European Collaborative Networked Organizations Leadership Initiative |
Contact
Stefan A. Wiesner
BIBA - Bremer Institut für Produktion und Logistik GmbH
Hochschulring 20
28359 Bremen
Events:
BIBA at Hannover Messe 2019
April 1st - 5th, 2019, Hanover
Still Writing E-Mails or Already Communicating?
April 1st, 2019, Bremen
The Digital Now: Artificial Intelligence
April 3rd, 2019, Bremen
Supply Chain Day
April 11th, 2019, Bremen, Germany
transport logistic 2019
June 4th - 7th, 2019, Munich, Germany
More events