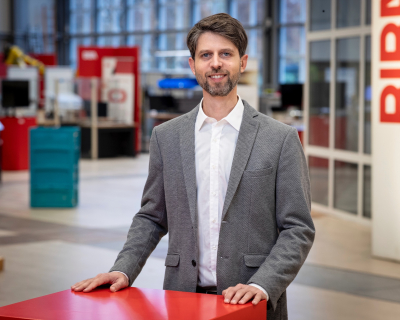 Dr.-Ing. Hendrik Stern
Research Scientist in the IPS department Data Analytics and Process Optimization
Curriculum vitae
Hendrik Stern ist seit Januar 2019 als wissenschaftlicher Mitarbeiter am Bremer Institut für Produktion und Logistik (BIBA) an der Universität Bremen in dem Forschungsbereich Intelligente Produktions- und Logistiksysteme (IPS) tätig. Sein Studium des Wirtschaftsingenieurwesen M.Sc. mit dem Studienschwerpunkt Systementwicklung und Innovation absolvierte er in Bremen und Padova (Italien). Anschließend war er von 2014 bis 2018 als wissenschaftlicher Mitarbeiter in der kooperativen Nachwuchsgruppe "Production Systems and Logistic Systems" des Fachbereichs Produktionstechnik und des BIBA an der Universität Bremen tätig. Seine Forschung beschäftigt sich mit Human Factors in cyber-physischen Produktionssystemen.
Research interest
Menschorientierte Gestaltung der Mensch-Maschine-Schnittstellen in cyber-physischen Produktionssystemen:
Wie nehmen Menschen ihre veränderte Rolle und ihre veränderten Arbeitsaufgaben wahr?
Wie beeinflusst die Interaktion der Mitarbeiter mit dem System dessen Performance?
Projects
| | |
| --- | --- |
| compARe | Optimization of the maintenance of wind turbines by using image processing methods on mobile augmented reality devices |
| LNG Armaturen Set | Development of a sensitive valve set for high-volume ship to ship LNG transfer |
| LNG Safety | Safety process system for cryogenic fluid transfer |
Contact
Dr.-Ing. Hendrik Stern
BIBA - Bremer Institut für Produktion und Logistik GmbH
Hochschulring 20
28359 Bremen
| | |
| --- | --- |
| Telephone | +49(0)421/218-50038 |
| e-Mail | |
Events:
Digitalisierung in Produktion und Logistik
18. Juni .2021, 13 Uhr, online
Der Digitalisierungsturbo für den Mittelstand
18. June, 2021, 3pm, online
Digitale Transformation im Seeverkehr, in Häfen und in Hinterlandverkehren
7. Juli 2021, 17 Uhr, online
Automobillogistik – Von RFID zu Logistik 4.0
6. Oktober 2021, 17 Uhr, online
Konsumentenlogistik – Wie umweltbewusst sind wir beim Online-Shopping?
3. November 2021, 17 Uhr, online
More events