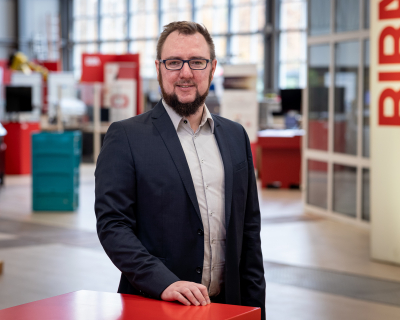 M. Sc. Lennart Rolfs
Research Scientist in the IPS department Robotics and Automation
Curriculum vitae
Lennart Rolfs has studied Electrical Engineering at the University of Bremen with a focus on Automation and Mechatronics. From 2012 to 2014 he was a fellow of the Deutschland Stipendium of the University of Bremen. He finished his studies with the master's thesis about Computer Vision Systems and Algorithms for 3D Object recognition and pose estimation in 2018. Since then, Mr. Rolfs works at the BIBA in the department IPS Robotics and Automation. He works on projects with robotic systems, automatic unloading systems and RFID technology.
Research interest
Robotic Systems
Collaborative Robots
Human-Machine-Interaction
RFID Systems
Projects
| | |
| --- | --- |
| IRiS | Interactive robotic system for unloading of sea containers |
Contact
M. Sc. Lennart Rolfs
BIBA - Bremer Institut für Produktion und Logistik GmbH
Hochschulring 20
28359 Bremen
Events:
BIBA at Hannover Messe 2019
April 1st - 5th, 2019, Hanover
Still Writing E-Mails or Already Communicating?
April 1st, 2019, Bremen
The Digital Now: Artificial Intelligence
April 3rd, 2019, Bremen
Supply Chain Day
April 11th, 2019, Bremen, Germany
transport logistic 2019
June 4th - 7th, 2019, Munich, Germany
More events