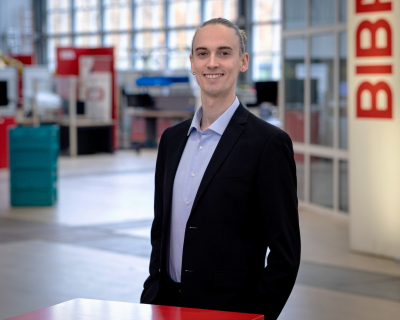 B.Sc. Lars Panter
Technical Staff in the IPS department Robotics and Automation
Curriculum vitae
Lars Panter arbeitete während seines Studiums der Wirtschaftsinformatik ein Jahr als studentischer Mitarbeiter am BIBA in der Abteilung IPS Data Analytics und Prozessoptimierung. Für das Projekt QUEST entwickelte er in Unity eine Qualifizierungsanwendung, sowie eine Single-Page-Webanwendung im MEAN Stack. Nachdem er seinen Bachelor-Abschluss erfolgreich absolvierte wurde er als technischer Mitarbeiter übernommen. Er arbeitet seit dem 05.11.2018 in der Abteilung IPS Robotik und Automatisierung. Hier entwickelt er unter anderem eine 3D-Webanwendung für VirtuOS und eine Android Applikation für Industrieprojekte. Dabei nutzt er unterschiedliche Systeme und implementiert Front- sowie Backend.
Research interest
Entwicklungsaktivitäten:
(3D-) Webanwendungen, Full Stack Web, Android, Unity, Spieleentwicklung
Zusätzliche Interessen:
Augmented Reality, Gamification
Activities
-Qualifizierungsanwendung in Unity (C#).
-Single-Page-Webanwendung zur Auftragsverwaltung, sowie Web-Scraper im MEAN Stack, MongoDB, Express, Angular, Nodejs (JavaScript).
-3D-Webanwendung, Three.js, HTML, JavaScript/jQuery, CSS, Bootstrap, Python, Django, PostgreSQL, Blender as a Module, celery, nginx, gunicorn.
-Android Applikation, Java
Projects
| | |
| --- | --- |
| KoMILo | Context-dependent, Al-based interface for multimodal human-machine interaction with technical logistics systems |
| VirtuOS | Multi-Criteria Optimization of Position and Configuration of 3D Sensors through Virtual Reality for Flexible Automation Solutions in Logistics |
| safeguARd | Augmented Reality-based assistance system for commercial vehicles to raise the safety level |
| QUEST | Gamification for Qualification of Offshore Wind Energy Service Technicians |
Contact
B.Sc. Lars Panter
BIBA - Bremer Institut für Produktion und Logistik GmbH
Hochschulring 20
28359 Bremen
| | |
| --- | --- |
| Telephone | +49(0)421/218-50187 |
| e-Mail | |
Events:
Digitalisierung in Produktion und Logistik
18. Juni .2021, 13 Uhr, online
Der Digitalisierungsturbo für den Mittelstand
18. June, 2021, 3pm, online
Digitale Transformation im Seeverkehr, in Häfen und in Hinterlandverkehren
7. Juli 2021, 17 Uhr, online
Automobillogistik – Von RFID zu Logistik 4.0
6. Oktober 2021, 17 Uhr, online
Konsumentenlogistik – Wie umweltbewusst sind wir beim Online-Shopping?
3. November 2021, 17 Uhr, online
More events