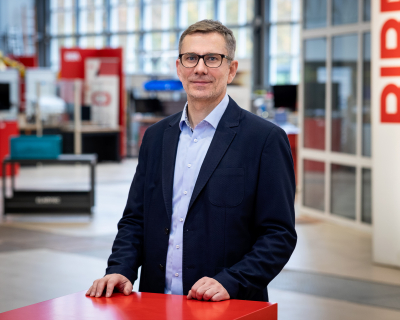 Dr.-Ing. Michael Lütjen
Department Head of the IPS department Data Analytics and Process Optimization
Curriculum vitae
Dr.-Ing. Michael Lütjen studied from 1999 to 2003 industrial engineering at the University of Applied Sciences in Wilhelmshaven with focus on 'Simulation and optimization in production'. Additonally, he took course in Production Engineering with focus on industrial engineering from 2003 to 2005 at the University of Bremen. Since June 2005 Mr. Lütjen is working as a research assistant at the Bremen Institute for Production and Logistics (BIBA) in the research area of ​​intelligent manufacturing and logistics systems (IPS).
Projects
| | |
| --- | --- |
| Isabella | Automobile logistics in sea- and inland ports: interactive and simulation-based operation planning, dynamic and context-based control of device- and load movements |
| RETROFIT | Recyclable insulated shipping containers for food |
| CooPick | Collaborative robot-robot-human interaction for fruit laying |
| LoRaLight | Development of a highly flexible picking system |
| F.I.T. Gaerautomat | Development of a fully automatic fermenter with automatic determination of the fermentation state |
| SFB747 - B5 | Qualitätsprüfung und logistische Qualitätslenkung mikrotechnischer Fertigungsprozesse |
| SFB747 - C4 | A Simultaneous Engineering methodology for micro cold forming processes |
| CrushPack | Development of a process to improve the crushability of packaging solutions made of expanded polystyrene (EPS) |
| Thermopack | Ein modular aufgebautes Verpackungskonzept für die Tiefkühl- und Distributionslogistik |
| Auto-RTM | Automatische Fertigung mittels RTM-Verfahren |
Contact
Dr.-Ing. Michael Lütjen
BIBA - Bremer Institut für Produktion und Logistik GmbH
Hochschulring 20
28359 Bremen
Events:
BIBA at Hannover Messe 2019
April 1st - 5th, 2019, Hanover
Still Writing E-Mails or Already Communicating?
April 1st, 2019, Bremen
The Digital Now: Artificial Intelligence
April 3rd, 2019, Bremen
Supply Chain Day
April 11th, 2019, Bremen, Germany
transport logistic 2019
June 4th - 7th, 2019, Munich, Germany
More events