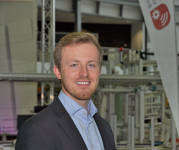 Hendrik Engbers
Research Scientist in the IPS department System Design and Planning
Curriculum vitae
Hendrik Engbers studierte Wirtschaftsingenieurwesen mit den Schwerpunkten Produktion und Prozesse an der Technischen Universität Clausthal und der Tongji-Universität in Shanghai.
In seiner Abschlussarbeit entwickelte er eine datenbasierte Methode zur Identifikation dynamischer Engpässe als Echtzeit-Entscheidungsunterstützung für die Instandhaltung hochflexibler Fertigungssysteme. Anschließend arbeitete er zwei Jahre als Consultant und vertiefte seine Expertise in der Analyse und Optimierung von Produktions- und Logistiksystemen.
Seit dem 01.01.2019 ist er als wissenschaftlicher Mitarbeiter im Bereich Intelligente Produktions- und Logistiksysteme am BIBA in Forschungs- und Industrieprojekten tätig.
Research interest
Produktionsplanung und -steuerung, Logistik, Supply Chain Management
Industrie 4.0, cyber-physische Produktions- und Logistiksysteme
Modellierung und Simulation
Maschinelles Lernen
Projects
| | |
| --- | --- |
| IPM | Individual Predictive Maintenance |
| EILa | Examining the influence of "Industry 4.0" on Factory Layout Planning |
Contact
Hendrik Engbers
BIBA - Bremer Institut für Produktion und Logistik GmbH
Hochschulring 20
28359 Bremen
Events:
BIBA at Hannover Messe 2019
April 1st - 5th, 2019, Hanover
Still Writing E-Mails or Already Communicating?
April 1st, 2019, Bremen
The Digital Now: Artificial Intelligence
April 3rd, 2019, Bremen
Supply Chain Day
April 11th, 2019, Bremen, Germany
transport logistic 2019
June 4th - 7th, 2019, Munich, Germany
More events